The Structural Engineers Association of Illinois (SEAOI) selected Magnusson Klemencic Associates (MKA) to receive a 2023 Excellence in Structural Engineering Award for the firm's role in Nashville International Airport's (BNA's) Terminal Lobby and International Arrivals Facility (IAF) Addition. The project is part of BNA's $1.5 billion overhaul and expansion to accommodate substantial growth in passenger activities.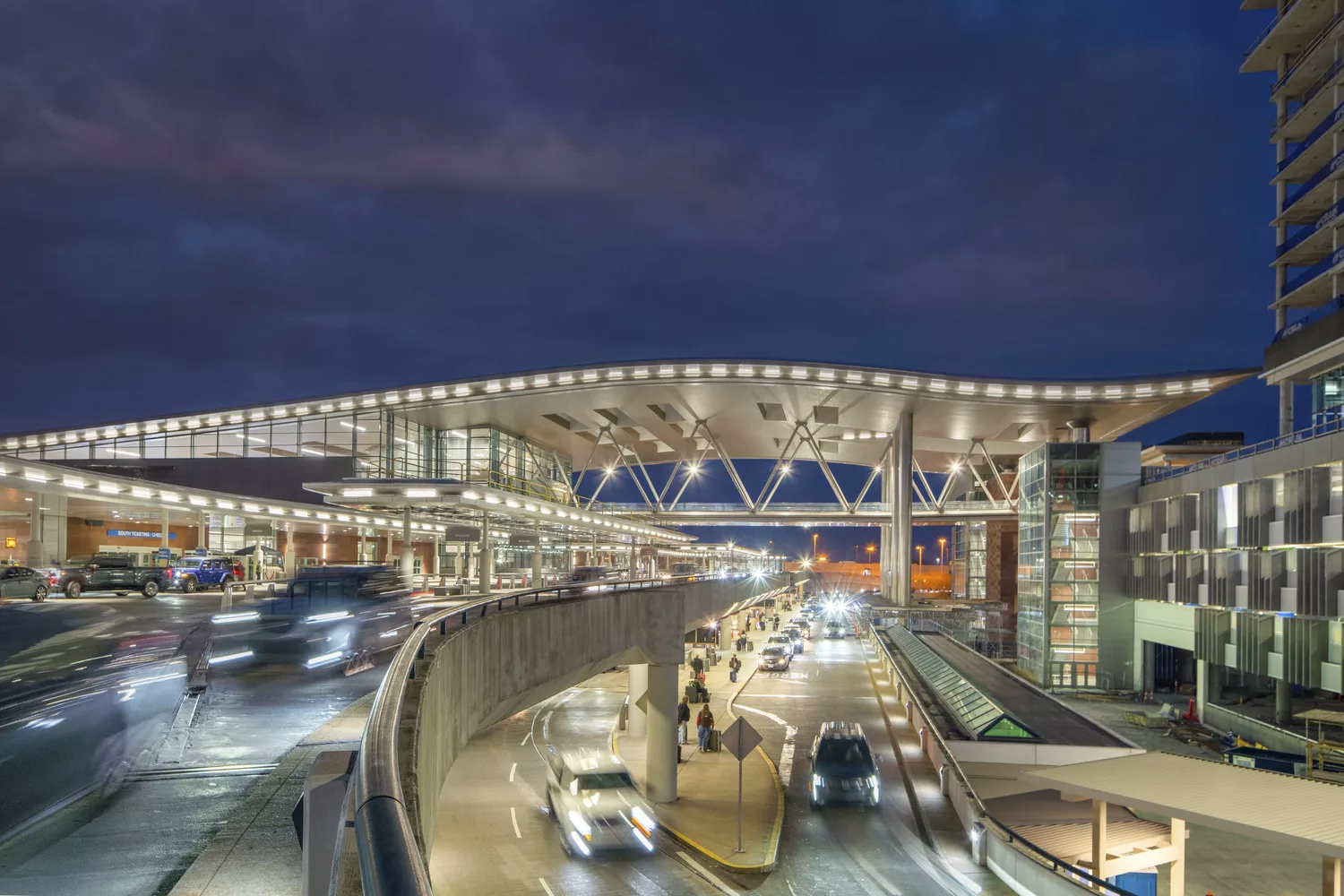 MKA's innovative and resilient design introduced a long-span structural roof "umbrella" positioned six feet above the existing terminal building and supported by new columns outside its perimeter. This design offered many project benefits:
Contiguous "twin-spine" trusses measuring 660 feet long support and form the project's iconic 6,255-ton "airwave" roof, eliminating the need for temporary shoring during construction and allowing workers to erect the steel above active roadways and a passenger-occupied terminal without interrupting airport operations. In addition, the twin-spine trusses are just 10 feet deep, facilitating pre-assembly and shipping during construction and reducing the project's cost and schedule.
New columns outside the terminal support the structural umbrella, eliminating the need to strengthen existing columns and foundations—cumbersome work that could have impeded airport operations.
The existing terminal roof served as a safe and temporary work platform during the structural umbrella's construction. For example, workers using the old roof as a platform installed the new roof's mechanical and electrical services six times faster than traditional means requiring scissor lifts.
When it came time to demolish the existing terminal roof, the structural umbrella provided weather protection for the work below.
MKA's design enhances the visitor experience in the main Terminal Lobby and IAF by introducing open, airy, and light-filled spaces unencumbered by forests of columns.
SEAOI presented the award to MKA in the category of Best Project Over $150 Million during the organization's 44th Annual Awards Celebration on June 1 in Chicago, Illinois.